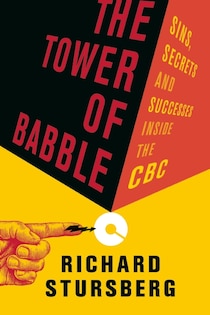 One of my most memorable consulting projects as an applied anthropologist was a job I did for CBC (Canadian Broadcasting Corporation) via Kaleidovision (now TerraNova Market Strategies). From a large pool of applicants, CBC awarded Kaleidovision a contract to  conduct qualitative research on the production and consumption of news. One of my duties was to travel across Canada, going into peoples' homes, watching, listening and discussing all aspects of the news with them. I also visited CBC studios across the land, where I interviewed news professionals and got to see in part how the news was made, from reporters' desks to broadcast programs. This research is now discussed in a very favorable light in a new book, The Tower of Babble, by former CBC boss Richard Stursberg, .
Stursberg writes about his experience as a top CBC executive. Among the topics discussed is the attempt, in 2002-2003, to revamp a moribund English language national news service, which, at the time, was behind rival networks Global, CTV, and even CNN, in audience count. In order to grasp how the entire news department functioned at the CBC, a massive research project was commissioned. Part of the research was a quantitative audience survey; part of it was qualitative research, which involved in-depth interviewing and detailed field observations. Stursberg calls it the largest research of its kind ever done. He also praises it as an "an impressive piece of work."
The report (co-authored by TerraNova principals Liz Torlée and Louise Ducet, and myself) was a massive tome dubbed "the bible" by some news producers. It served, among other things, as a production guideline. That it is being referred to as a groundbreaking piece of research is very gratifying. It also provides further evidence for the unique value that applied anthropology can provide to corporations intent on viable, meaningful change.